Alison Cork discovers handy hints for the home, a doctor for your power shower and an air-conditioned mattress
Blowing in the wind If, like most of us, you would like to do more for the environment, but have no time to research the subject, Ecotricity could have the answer.
It supplies renewable wind energy nationwide and matches local tariffs, which means switching is at no extra cost to you. Also, customers do not have to be near a wind farm to benefit.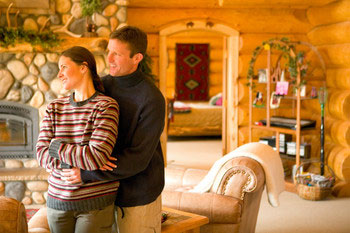 Register at www.ecotricity.co.uk, or call 0800 032 6100, and Ecotricity will do the rest.
Handy home hints
There is a really quirky but quite addictive website called Hints and Things.
Organised by each room of the house, the website dispenses advice on just about every household matter you could imagine; from florists' tips to interior design, expert advice for Aga owners, safety information and even advice on how to keep your important household records.
Run by a dedicated enthusiast (as opposed to a corporate player), this is a most endearing and helpful site that runs to more than 400 pages. There is also a free monthly magazine on offer.
Hints and Things is at www.hintsandthings.com.
Shower power
I adore websites that are unselfconsciously techie, such as The Shower Doctor.
Here you will find more than 400 pages of diagrams of just about every component of every shower on the market, so you can identify the spare part you need.
Once you have found it, the item will probably be in stock as The Shower Doctor holds parts for showers that are up to 50 years old. Technical advice and expertise is free, and there are regular special offers.
All in all, this is one of the most helpful, practical and good- value websites around.
Call The Shower Doctor on 0131 443 9917; or visit www.theshowerdoctor.co.uk.
Electrifying shopping
Before you go to the high street for your electrical goods, visit Electrical Shopping. This is a clear and easy-touse site that sells top-branded goods at great prices, and delivers free nationwide. Electrical Shopping is at www.electricshopping.com.
Sleep tight
If you are seeking the perfect night's sleep, FreshBed is designed with built-in air conditioning, and so is able to maintain your body temperature at the correct level for sleeping.
The temperature control also creates an environment that stops dust mites living inside your bed.
The unique "breeze" technology sends a current of air through the mattress to create the right sleep environment, and one that prevents perspiration or chills and is deadly to dust mites. The brainchild of inventor John Statham, FreshBed is available
for sale online from Pounds 900 at www.freshbed.com, or through Feather Black nationwide.
For details of your nearest store, visit www.featherandblack.com.
Dream time: FreshBed offers temperaturecontrolled sleep. Visit www.freshbed.com
Hotting up
It may be August, but now is the time to think about preparing for the colder autumn months. And the Marble Heating Company has an unusual range of stone radiators, which are not just elegant to look at, but also economic to use.
Winner of the Product of the Year in the Design Decoration Awards 2005, its bespoke range includes more than 40 types of marble, granite and limestone radiators in various colours, finishes, shapes, sizes and power output.
Due to stone's heat-retention properties, the electric radiator only has to be switched on to maintain the required temperature in a room for 10 to 15 minutes an hour.
Prices start at Pounds 359, plus VAT, but during August there is a 20 per cent discount on the standard range - just mention this column.
Marble Heating Company, 139 Kennington Park Road, SE11 (020 7587 1361; www.marbleheating.co.uk).
Supersavers
DIY superstores are not always good value, but Wickes has just launched some fabulous bathware and radiators.
The designer radiator range starts at only Pounds 138.99 (for the multicolumn version), and its freestanding baths, made from the highest-quality acrylic, start from Pounds 700, including legs and waste.
I particularly liked the double-ended roll-top and the modern take on the traditional roll-top design.
To receive a free copy of Wickes' bathrooms brochure, or to find your nearest store, call 0800 106068, or visit www.wickes.co.uk.
Hot idea: stone radiators start from Pounds 359 at the Marble Heating Company (020 7587 1361)
Modern movement
NEW to the property market is The Modern House, an estate agent that sells only outstanding architect-designed homes, dating from the 1920s to the present day.
It is aimed at potential sellers dissatisfied with the services offered by less specialised agents.
When preparing the details of the property, it particularly focuses on the architectural aspects of the house.
The Modern House operates across the country. For more information, call 01420 520805, or visit www.themodernhouse.co.uk.
Specialist in chic: for an architect-designed home, visit www.themodernhouse.co.uk
Now you recommend ...
Here are some of the tradespeople you have recommended this week: . Artistic Restoration, builder and plasterer, covering north, west and east London (07811 136656).
. Victoria Hammond Interiors, interior design and decorator, covering all of London (07760 190279).
. Heatwave Heating Plumbing Engineers Ltd, heating engineer, covering north, north-west London, Middlesex and Hertfordshire (07951 401401).
. GMS London, builder, central heating, plumber and electrician, covering north and east London and Essex (07979 754205).
. Molten Design, decorating, electrics, interior design, kitchens and joinery, covering all of London (07967 666787).
For reliable tradespeople in London and within the M25, visit www.thetradesmensdirectory.co.
uk. If you can recommend a tradesperson, email alison@alisoncork.com.
For more Really Useful information, check out
www.thereallyusefuldirectory.co.uk. For one-to-one homeware and service recommendations, call the Homes Advice Line on 09066 171717 (calls cost 60p a minute, lines open Monday to Friday, 9am to 4pm).
If you can recommend a homeware product or service, email alison@alisoncork.com.