Entertainment/Technology/Feature Editors
WALTHAM, Mass.--(BUSINESS WIRE)--Jan. 22, 2002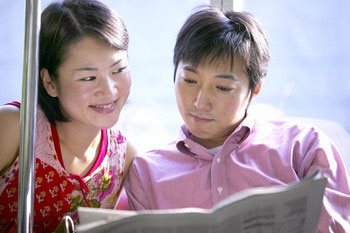 Terra Lycos (NASDAQ: TRLY), the leading global Internet network, today revealed tips for taking an online romance offline on Lycos Matchmaker (http://www.matchmaker.com), the most fun and entertaining way to meet new people. After creating a stellar online dating profile, browsing the millions of eligibles online and selecting a special someone, Lycos Matchmaker offers tips on how best to take the online romance offline.
Tips on how to take an online romance offline include:
1) Be armed with conversation starters - study the person's
profile and read up on their interests to avoid awkward silences.
2) Ask questions - as important it is to talk about yourself, you
also want to show interest in the other person.
3) Arrange to meet your date in a public place - a coffee shop,
restaurant or bookstore are all good options for a fun first
meeting and let a friend or family member know where you'll
be.
4) A double date can be ideal - it's brief and informal, so
encourage your friends to create their own online dating
profile and bring them with you.
5) Should your date be from another town, meet somewhere in the
middle - pick a central location that is convenient for both
parties.
Matchmaker's tips for taking an online romance offline provides guidance on how to meet a special someone in "the real world" for the first time. According to a recent survey of Matchmaker members, both men and women agree that after meeting someone online, it is appropriate to meet them in person after about a week of correspondence. The best advice for all singles is to trust your judgement and be cautious about revealing personal information until you know someone, good advice no matter where singles meet!
Lycos Matchmaker is the ultimate source for finding love online - with a free trial membership, more than 5 million registered users, more than 90 geographic and lifestyle communities and with more than 100 success stories submitted each month - Matchmaker wants to ensure that singles make love happen for Valentine's Day and the whole year through.
About Terra Lycos
Terra Lycos is a global Internet network operating in 43 countries in 20 languages, reaching 109 million unique monthly visitors worldwide. Created by the combination of Terra Networks, S.A. and Lycos, Inc., in October 2000, Terra Lycos is one of the most popular Internet networks in the U.S., Canada, Europe, Asia and Latin America, and is the largest Internet access provider in Spain and Latin America. The Terra Lycos network of sites includes Lycos.com, Terra.com, Angelfire.com, ATuHora.com, Gamesville.com, HotBot.com, Invertia.com, Lycos Zone, Matchmaker.com, Quote.com, Rumbo.com, Sonique, Tripod.com, RagingBull.com and Wired News (Wired.com). The company's headquarters are in Barcelona and it has major offices in Boston, Buenos Aires, Madrid, Miami, Monterrey and Sao Paulo among others. It is listed on the Madrid stock exchange (TRR) and on the Nasdaq electronic market (TRLY). For more information, please visit our corporate Web site at http://www.terralycos.com.
(c)2001 Lycos, Inc. Lycos(R) is a registered trademark of Carnegie Mellon. All other product or service marks mentioned herein are those of Terra Networks, S.A., Lycos, Inc. or their respective owners. All rights reserved.