From laddie books to publications aimed at the sophisticated gentleman, offline magazines vie for e-readers with sometimes surly, sometimes sexy Web editions. But is online really where the boys are?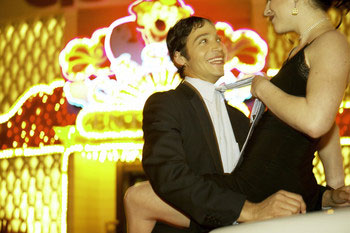 The Internet has more Web sites targeted to men than to any other demographic group. The trouble is, the vast majority of Web sites all offer male Web surfers the same thing: Porn, If you're looking for an e-read with a little less va-va-voom and a little more soul, Web sites growing out of already established offline men's magazines may be the way to go. Taking the leap from the page to the homepage is still a tricky road to cross for the magazine publishing industry, especially when it comes to the question, Why pay for it on the newsstand when you can get the content online for free? But many titles are beginning to take better advantage of the technology that the Internet has to offer and finding Ingenious ways to leverage their brands on the Web without sacrificing offline sales.
Playboy may be the Web ploneer of men's magazines, launching in 1994. In many ways, the house that Hef built is still the King of men's magazines online. It's gotten classier along the way too. Playboy's long-standing soft-core fare has been shunted to the side online, into a separate pay-per-view site. In its place is a vastly inhabited world of free content: articles, videos, advice, auctions, Webcasts and reviews. Other men's magazines are in varying stages of trying to measure up to Playboy.com's, um, depth.
In the middle of a tremendous growth period, Maxim has plunged into the internet in full force, creating a site that's stocked with original content and interactivity. And Esquire has successfully updated its grand narrative tradition for the digital age.
But still others lag behind in the race to digitize. With very limited content, Men's Journal, GQ and Stuff don't have much of an online presence. But this is still a new playing field. And as Gen Y males age and begin to trade in their skateboards for business suits and real jobs, the audience for men's magazines won't disappear anytime soon.
ESQUIRE: ESQUIREMAG.COM
The Point: Transferring Esquire's subdued guy-speak and historic love of 'storytelling' to the small screen.
Vital Statistics: Based in New York, launched in July 1999, re-launched March 2000. Owned by the Hearst Corporation.
Target Demo: An intelligent, sophisticated, 35-year-old man who is established in life.
Traffic: 1 million page views per month.
Content: Hanging onto the ponderous legacy carved out by Norman Mailer and Gay Talese way back when, the editors have digitized their love of story and augmented it with 'Everything a man needs to know.' This includes sections on style, women, drinking, wisdom, features, finance, and reviews. Unfortunately, there isn't much here that you won't find on the newsstand edition.
Look and Feel: It feels like you just stepped into a crisp new suit, but you'll be asked to leave if you get it dirty.
Usability: No problems here. The site is laid out cleanly and it makes a lot of sense. But there is very little interactivity. It's mostly pictures and articles. There was one complex undertaking, a video accompaniment to a feature story, and the clips loaded cleanly.
Bottom Line: If you're a high-minded, ultra-serious man who finds his identity in his 'sophistication' then log on here.
FHM: WWW.FHMUS.COM
**
The Point: Establishing a Web presence for the behemoth British print title, which launched its U.S. edition early this year.
Vital Statistics: Based in New York, launched this past winter, owned by EMAP Petersen.
Target Demo: 18-34-year old who wants an alternative to Maxim.
Traffic: FHM does not track page views on its site.
Content: Barroom jokes. A monthly contest to win a car. True stories submitted by readers. Pictures of pinups. Features reprinted from the magazine. And that's it. FHM landed stateside to knock chunks off the mountain that has become Maxim. And they'll use this Web site to try and accomplish that goal. With upcoming plans to incorporate more of the magazine, as well as to introduce more interactivity, the editors want this site to match up to Maxim's.
Look and Feel: Like the foundation is in place but the building's not finished. It has the requisite feel of British lad magazines, with talk of drinking and shagging, but toned down a bit for our delicate American tastes.
Usability: It's a clean, simple layout that won't cause confusion. Even here, the competition creeps in. Maxim's background is all black and FHM's is all white.
Bottom Line: The magazine just launched, so there's not much here. Best to reserve final judgment until all the pieces are in place.
GQ: WWW.GQ.COM
*
The Point: Like its fellow Conde Nast magazine Details, this site directs readers to CondeNet's Swoon.com.
Vital Statistics: Based in New York, launched in summer 1996, owned by Condo Nast.
Target Demo: Swoon's target is a 25-year-old, college-educated hipster, a little younger and less sophisticated than the classic GQ man.
Traffic: Swoon attracted 86 million page views last year, up 75 percent from 1998.
Content: There's Dr. Sooth, Style Guy and Mixology, which all come from the pages of the magazine. But that's about it in the way of GQ-related items. The chatty Swoon, a site dedicated to "dating, mating, and relating," generates original content and also culls material from Conde Nast titles Details, Glamour and Mademoiselle.
Look and Feel: Like you've arrived early at the party.
Usability: Everything went OK, until the all-important sex-advice column wouldn't open.
Bottom Line: There's nothing GQ going on here.
MAXIM: WWW.MAXIMONLINE.COM
The Point: The runaway hit magazine, a two million-copy monster, now has a Web site to match its offline aspirations.
Vital Statistics: Based in New York, launched July 1999, re-launched this past Valentine's Day, owned by Dennis Publishing.
Target Demo: The 25-34 year-old guys who graduated from junior college and never wanted the frat party to end.
Traffic: 25 million page views per month.
Content: Everything a lad could ever need--from a seemingly endless bevy of pictures of beautiful women to directions on how to pull off a practical joke. Plus, an advice column--with topics like throwing "a killer bachelor party that doesn't involve jail time" to defending yourself against a sexual harassment suit--and games, polls, videos, chat rooms and free e-mail.
Look and Feel: There's a ton going on, and it's a little overwhelming at first. The pages feel jammed.
Usability: Once you figure out what you want and where it is, you'll be clicking away free and easy all day.
Bottom Line: If you love the magazine, you'll drool over the site.
MEN'S FITNESS: WWW.MENSFITNESS.COM
**
The Point: The get-huge crowd goes online.
Vital Statistics: Based in Los Angeles, launched in 1995, owned by Weider Publications, which also publishes Muscle and Fitness, Flex and Shape.
Target Demo: A 32-year-old guy who knows that you can never get too ripped. He wants to eat right, stretch properly and do everything he can to ensure that his body will perform optimally every minute of every day.
Traffic: Just under one million page views per month.
Content: Focusing on abs, glutes, biceps and the exercises, diet, and supplements you need to make them bulge, this site is little more than a reprint of the newsstand version. There are articles on training, nutrition, health, "5 body parts that make women drool," and how to "have sex as long as you want." This isn't about getting fit. It's about getting big. And the site itself should be growing soon too. The new CEO of Weider is a former director of America Online.
Look and Feel: Like a direct-mail letter. With his comprehensive line of weight gainers and amino boosters, Joe Weider spawned a whole new way for the average guy to access muscle mass. The magazine, and now the Web site, follow that tradition. No frills, straightforward advice, tips and tools.
Usability: Simple, for those obsessed with getting a V-shaped torso. No tricky downloads. This site isn't about interactivity.
Bottom Line: There's a definite audience, and the editors cater to it. In the forum, one user asked "Does masturbation affect muscle mass?"
MEN'S HEALTH: WWW.MENSHEALTH.COM
***
The Point: Overloading readers with everything they would ever want to know about building a strong, lean and healthy body.
Vital Statistics: Based in Emmaus, Pa., launched in May 1996, owned by Rodale Press, publisher of wellness titles such as Prevention, Runner's World and Backpacker, among others.
Target Demo: Health-conscious 30-year old guy who wants to get big but stay cut.